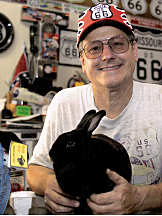 Staunton, IL -- Montana, queen of Henry's Ra66it Ranch in Staunton, Ill., passed away in June 2008. She had a good life here on Route 66. For over seven years she warmly greeted the locals as well as travelers from all over the world.
She is probably best remembered for her autographs and amusing little tricks performed. Montana was Henry's little sidekick and partner, like The Lone Ranger and Tonto, only with Montana as the Lone Ranger and Henry as Tonto. She had become a Route 66 icon. On her passing, several cards, letters and pictures sent by Route 66ers were received at Henry's Ra66it Ranch. Henry plans to start a large scrapbook of these items and several others in memory of Montana.
The last six months dealt Montana with chronic health issues, but she persisted in doing her duty. In that time period she had some notable accomplishments. This past March she came in #106 out of 30,000 pets in a photo/pet contest conducted by the Humane Society of the USA. That then excited her into throwing not only her hat but also herself in the ring to run for president of the United States. Her presidential campaign continues in honor of her memory and love for the road and its people.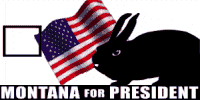 Born: February 23, 2001
Birthplace: McDonough County, Illinois

At Henry's Ra66it Ranch since April 16th, 2001. Official Route 66 Greeter and Queen ever since.

Presidential qualifications: Doesn't say much, is a good listener since she is all ears, will pick up the phone at 3am to quickly hang it back up, can't do worse than any present presidential candidate or past six or seven presidents. Seven years as Queen has taught her effective leadership, has no relatives to give jobs to, uninfluenced by lobbyists (the rumors of being influenced by the Carrot Growers Association have been proven largely unfounded), and the list goes on.
In June 2008 Montana passed the responsibilities of her presidential campaign to her running mate "Guy the Rabbit" who now carries on the high traditions she set. The new "Guy" has become the Official Route 66 Greeter and King of Henry's Ra66it Ranch.


---
Montana was a very proud member of the Route 66 E-group and wore her membership badge proudly on the wall of her condo.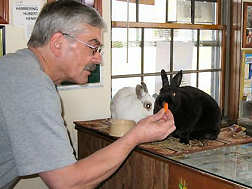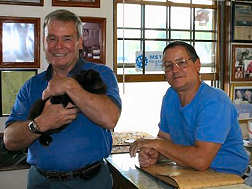 by Rich Henry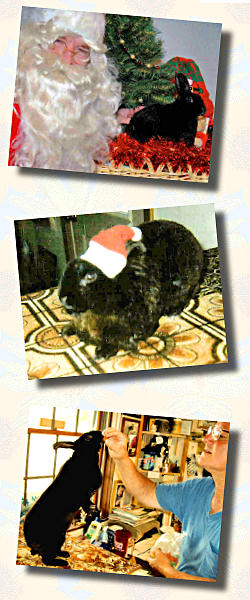 Montana was a big favorite of Santa, which is why she wanted to see him in 2006 and be him in 2007.

In June 2008 we had a big Route 66 Festival in Litchfield, IL, just down the road from Henry's Rabbit Ranch. Visitors from all over the world stopped by to say hi to Montana. She was excited to see her old friends and make new ones. After the Litchfield Route 66 Festival, somehow Montana knew her time was at hand. She began to tie up a few loose strings so she could procede to her next step of bigger and higher things. The last week or two before her passing, she kinda was preoccupied, but I never could figure it out and she wouldn't let me know.

After her passing she made it up to the Pearly Gates of Heaven, where she stopped by St. Peter. Upon seeing her, He said, "its ok, you been a good little bunnie, you can go on in." Her response to him was,"The name is Montana, Queen Montana. I reigned for over 7 years on my throne on the counter of Henrys Rabbit Ranch. I met and greeted people from all over the world." He responded,"Yes, I know that, but where is this leading?" Montana responded,"Pete, you need more time to yourself and some assistance hare. I could be the official greeter at the Pearly Gates of Heaven. You could be my sidekick here, like it was with me and Henry. I have the many years of greeting experience, plus many of the people I met down on earth from all over that world, will be the same ones coming thru here. It will make them more at ease seeing my familiar face." So that is where the story ends, and knowing the persistency of Montana, I am sure we will see her there greeting us when it is our time.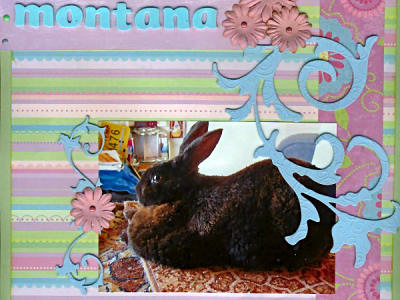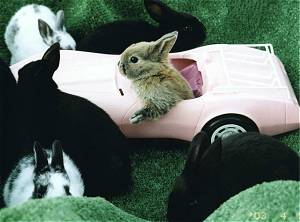 Montana was laid to rest on June 26th, 2008 alongside some of her previous fallen compadres (like Teddie pictured at left) at the Ranch in an area now called "Tale of Ears" memorial park garden. Her previous retirement/campaign fund has been converted over to her memorial fund, which will be used for development of the memorial park.
Anyone wishing to further contribute to Montana's Memorial can do so in person at Henry's Ra66it Ranch, 1107 Historic Old Route 66, Staunton, Il., 62088-4361 or by mail.