---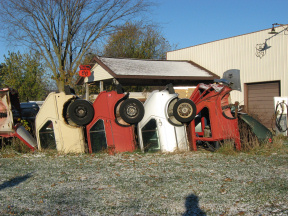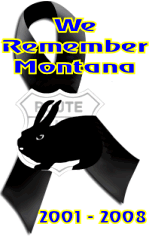 Are you in the mood for some really good times on the Mother Road? If you are you've come to the right place. The place of course is Henry's Rabbit Ranch in Staunton, Illinois! Rabbits, Rabbits, Rabbits ~ Both types exist there. The hopping kind and the VW kind! Henry's Rabbit Ranch celebrates Route 66 and the people along the highway with its emporium of highway and trucking memorabilia that includes a collection of Campbell's "humpin' to please" trailers next to a replica of a vintage gas station. Henry's Rabbit Ranch Station and Visitor's Center looks like a real old classic filling station once found all along Route 66. At Henry's Rabbit Ranch you'll find a wide selection of Route 66 gift and collectible items too. Henry's Rabbit Ranch is a Route 66 Visitor's Center deluxe.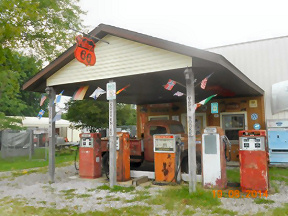 Memories of the Mother Road are shared there with visitors from all over the world. Henry's Rabbit Ranch is a contribution to America's Main Street. In 2012 Henry's Rabbit Ranch was inducted into the Illinois Route 66 Hall of Fame, now located in Pontiac, IL at their Route 66 Museum.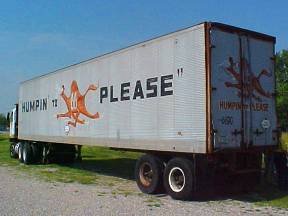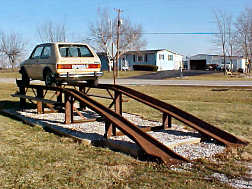 At Henry's Rabbit Ranch you will find authentic memories of old Route 66, historic vehicles and road memorabilia abound. Step back to yesteryear at Henry's Rabbit Ranch.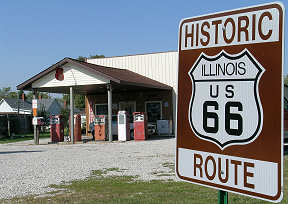 Henry's Rabbit Ranch is a labor of love. Rich took a trip to California on Old Route 66 in 1993 and noticed the lack of Route 66 visitor centers and souvenirs of the Mother Road. When he got back home to Staunton he decided to do something about that and built his visitor center. Times have changed and Route 66 is seeing a rebirth all along the highway, and Henry's Rabbit Ranch was at the forefront of this movement.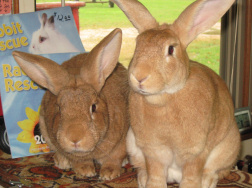 Henry's Rabbit Ranch, though new in terms of the Mother Road, maintains the best traditions of Route 66. This is what it's all about. Now about those rabbits, seems Henry's daughter Emily got a pair of rabbits and didn't account for the resulting population explosion. She lived in a single room apartment and things were getting a little out of hand. Rich stepped in and helped out and the next thing you know there was a new attraction on Route 66 - a rabbit ranch.

Rich loves those rabbits and you know what? They love Rich too. When he walks by their pens they perk up and come out to meet him. Each rabbit has a name and a distinctive personality. Rich has even trained some of the rabbits to do tricks for the visitors that stop in.

---
In June 2003 the Route 66 Caravan paid a visit to Henry's Ra66it Ranch to honor them with a Roadside Attraction sign. Pictured from left to right are Rich Henry, Patty Kuhn of the Illinois Route 66 Heritage Project, and Jim Conkle the Hampton Inn 66 Caravan Spokesperson. Henry's Ra66it Ranch is truly a site worth seeing!



---
Okay Route 66 road wanderers, make sure you put Henry's Rabbit Ranch on your list of places to visit. I know you'll enjoy your stop here!

Going east to west as you approach Henry's Rabbit Ranch just look out for the signs directing you. This is one stop you'll treasure for the rest of your lives. A must see Route 66 attraction!

Or use Google Earth to see us from way up above! GPS Coordinates

---

E-Mail Henry's Rabbit Ranch
Or Write:
Henry's Rabbit Ranch
1107 Historic Old Route 66
Staunton, IL 62088-4361
(618) 635-5655
---
Visit Other Route 66 Pages in Web Ring Below

©2003 - Site Design and Hosting by

GRandall Web Design